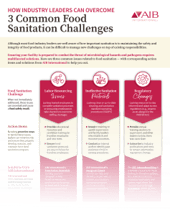 Ensuring your facility is prepared to combat the threat of microbiological hazards and pathogens requires multifaceted solutions. This infographic details three common issues related to food sanitation — with corresponding action items and solutions provided by AIB International to help you out. You'll learn:
Causes of Common Food Sanitation Issues
Action Steps You Can Take Today
Available Tools & Resources for Your Team
Use this infographic to ensure you're sanitation program is meeting regulatory requirements and keeping your products safe!